About the Akwesasne Housing Authority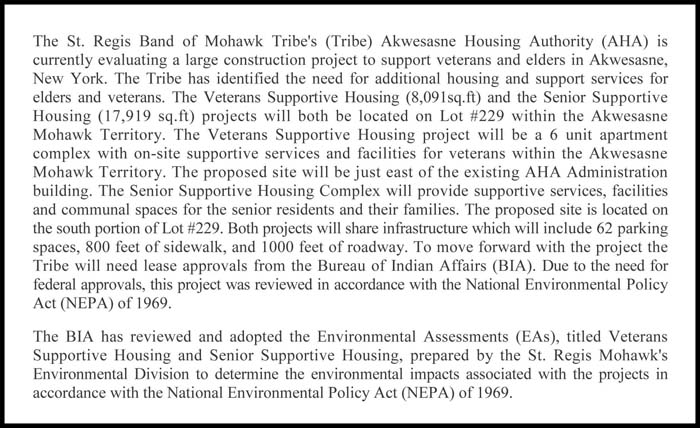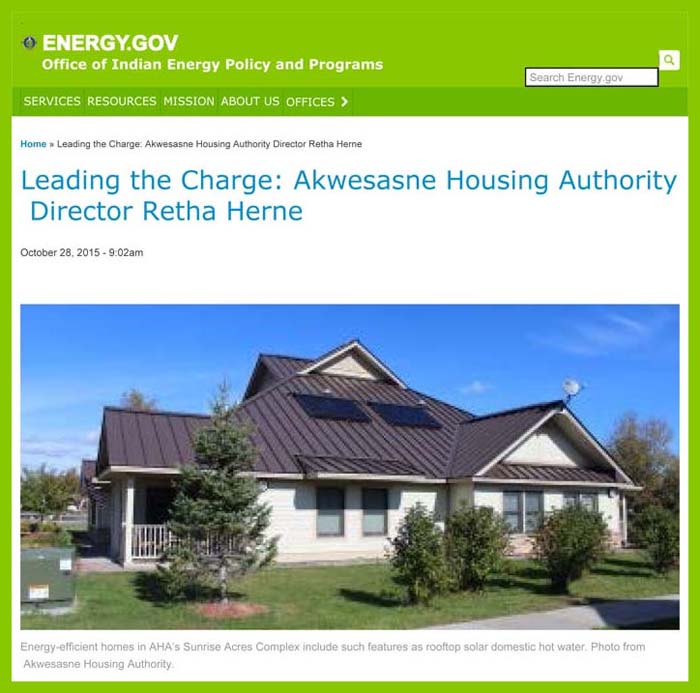 Click Here to read the ENERGY.GOV Blog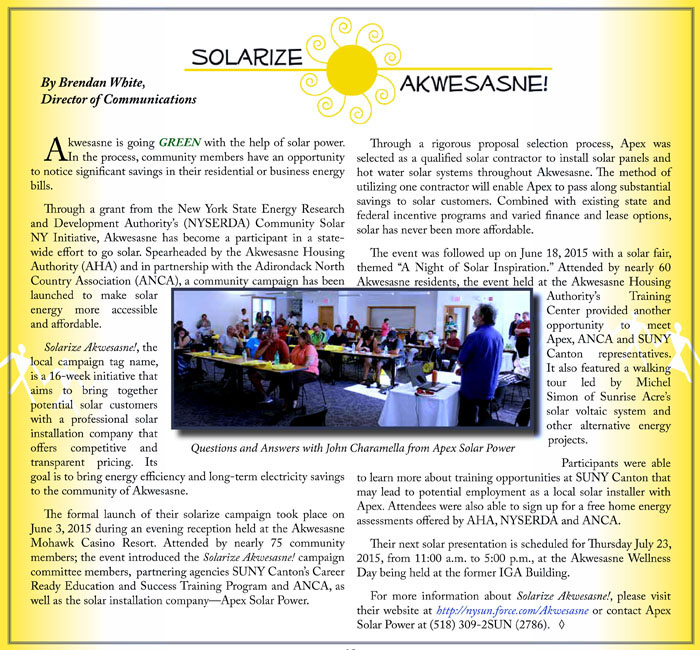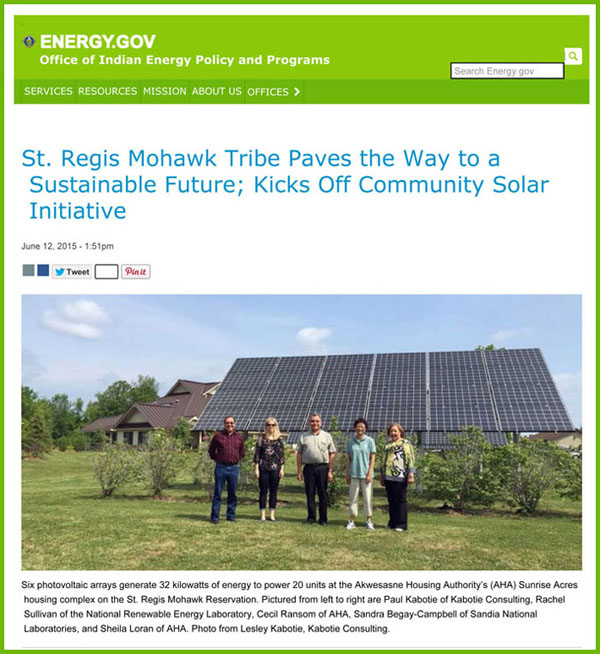 Click Here to read the full Energy.gov article
Mission Statement:
The mission of the Akwesasne Housing Authority and the St. Regis Mohawk Tribe is to develop a comprehensive housing program that will address the needs of all Mohawks living on and around our designated Indian area. We will seek to generate and promote community strength and prosperity through safe housing, supportive ventures, economic development, and program efficiency. In the spirit of this mission, we will strive to protect and educate our future generations.
Background History:
Akwesasne Housing Authority (AHA) is a Tribally Designated Housing Entity created using the U.S. Department of Housing and Urban Development (HUD) model Indian Housing Tribal Ordinance by the St. Regis Mohawk Tribal Council Inc, on July 19, 1984 by Tribal Council Resolution 84-13.
Starting in 1985 the Akwesasne Housing Authority has been responsible for the direct administration and monitoring of the following HUD funded grants awarded to the St. Regis Mohawk Tribe, and continues to be the recipient of the Native American Housing Assistance and Self Determination Act of 1996 (NAHASDA) Block Grants funds.
30 Years of Accomplishments:
St. Regis Mohawk Tribe Opens the Diabetes Center for Execellence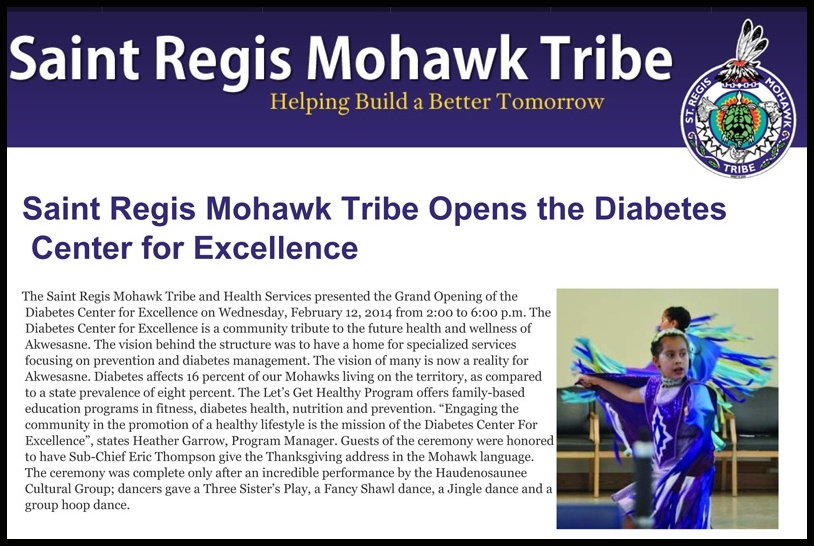 Chief Paul Thompson's grateful words
Chief Paul Thompson was present in heart. His grateful words were shared with the crowd of almost 100 people.He recognized the Akwesasne Housing Authority who took a lead role in this important effort, sponsoring and organizing events. "Retha Herne presented a check for one million dollars to fund this project. It was absolutely amazing". Present were instrumental guests from the United States Department of Agriculture Rural Development who contributed $336,000. Chief Thompson and Chief LaFrance thanked Brian Murray, the Northern Regional Area Director and Renee Hotte, also from the USDA Rural Development offices. Martha Torrez and Stanley "Lee" Telega represented the USDA from the national and state offices, respectively. Ms. Torrez traveled from Albuquerque, New Mexico to join our celebration.
The Planning and Infrastructure Division of the Saint Regis Mohawk Tribe was responsible for all of the construction management. Director Ernie Thompson shared stories of the collective efforts of construction, the architects and engineers and his team, led by Colleen Thomas. Heritage Homes was selected as the contractor of the facility in August of 2012. The construction design allows for an expansion phase that will accommodate future needs, including an indoor walking track.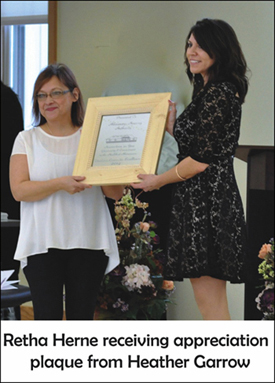 Click here to Read More from the St. Regis Mohawk Tribe News Release
MEPA USE POLICY CHANGE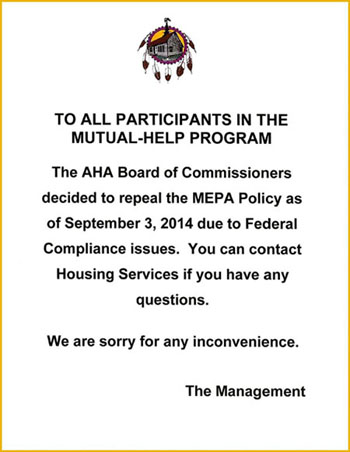 Sunrise Acres Complex Expansion 2011
Grand Opening Held July 7, 2011
The Akwesasne Housing Authority has determined the need for additional low income elderly housing with a five (5) quad expansion to the Sunrise Acres Elderly Complex. This will allow for twenty (20) more elderly units to serve low-income, elders, near-elders, and handicapped persons with rental housing.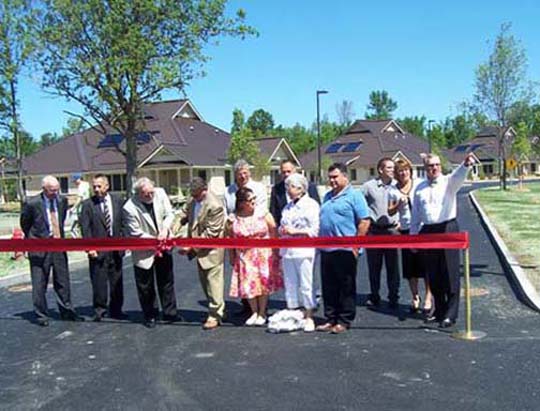 Ribbon Cutting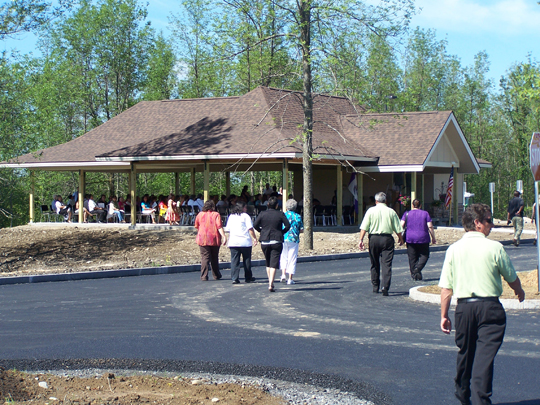 Grand Pavilion " Tsi Ka΄ nikonhriiohsha "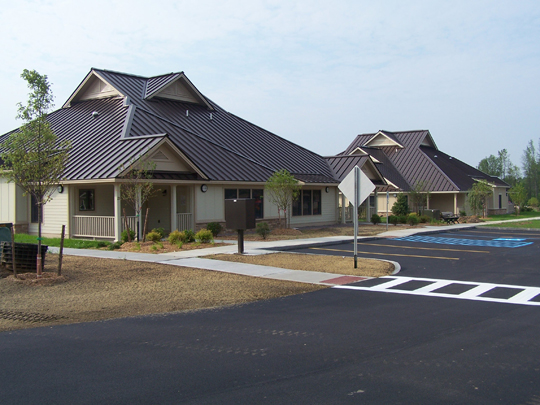 Sunrise Acres Apartment Building 9&11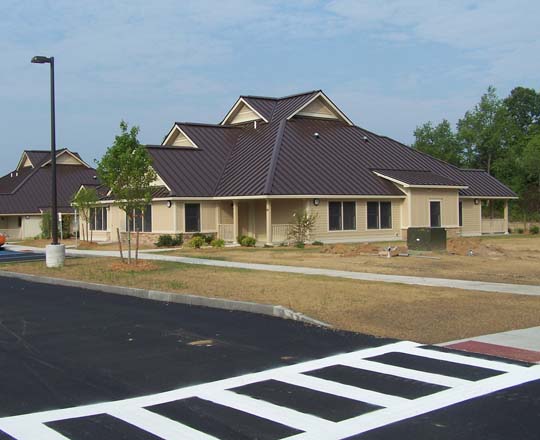 Sunrise Acres Apartment Building 10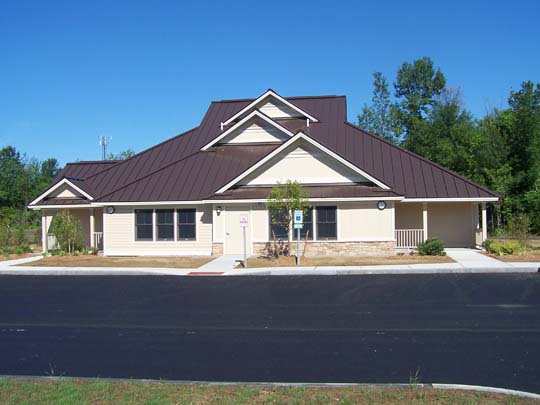 Sunrise Acres Apartment Building 12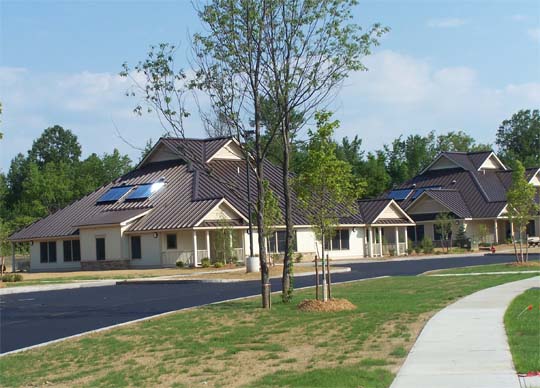 Sunrise Acres Apartment Building 13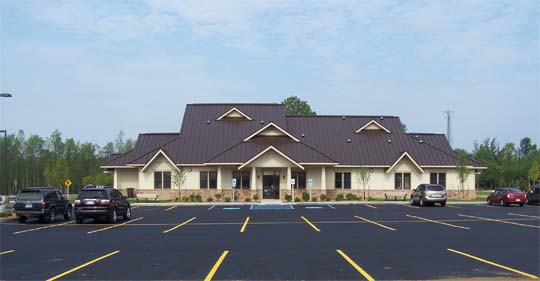 Sunrise Acres Training Facility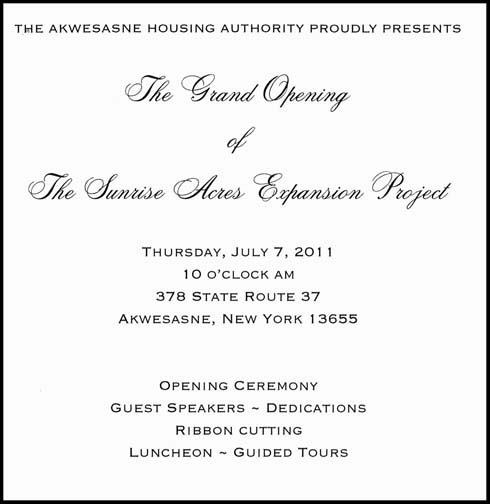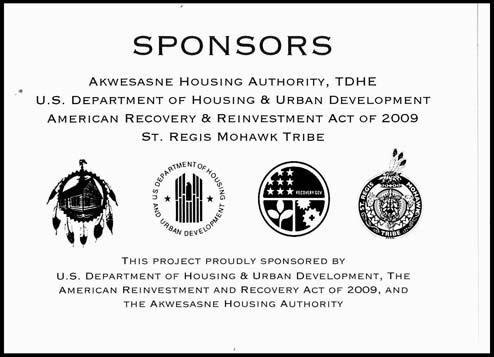 Previous Accomplishments:
Awarded 14 Development Project awards under the HUD 1937 Housing Act. Individual grants ranged from $45,000 to $4 million.

4 Comprehensive Improvement Assistance Program grants.

Received 8 NAHASDA Block Grants (Years 1998 - 2005) in excess of $16 million.

Community Cooperative Projects including a 12-bed Tribal Foster Care Facility, leveraging/contribution of monies for participation in the St. Regis Mohawk Tribe Water Enhancement Project.

Created a HUD initiated program, the Akwesasne Neighborhood Networks Computer Learning Center, which was the first of its kind ever established in Indian Country, accomplished within two months and a startup budget of $89,000.

Administration of a Rental Assistance program for low income families residing on and near the St. Regis Mohawk Reservation.

Creation of the Akwesasne Boys & Girls Club, established to provide exciting opportunities for children of all backgrounds.

Additional facility and office space to the Partridge House, an in-house drug and alcohol rehabilitation facility.

2005 Construction of the new senior citizen center, using leveraged funds from the St. Regis Mohawk Tribe, United States Department of Agriculture (USDA), and the St. Regis Mohawk Office for the Aging, Bingo Palace, Casino and various community fundraising events.
The Akwesasne Housing Authority organization consists of a seven (7) member Board of Commissioners appointed by the St. Regis Mohawk Tribal Council. Their major function is to assist in the development and adoption of policies that govern the AHA operations.
Key personnel that carry out housing activities include an Executive Director, Building & Planning Superintendent, Finance Comptroller, Resident Services Manager, Occupancy Manager, Human Resources Manager, Quality Assurance Manager, Operations Manager, Building Coordinator, force account construction laborers and office personnel.
The AHA has continued to be regarded by HUD as high performance Tribally Designated Housing Entity The financial audits of this organization demonstrate management capabilities of all the programs it administers.
In 1996, the Native American Housing and Self Determination Act (NAHASDA) was introduced. NAHASDA recognized the system of federal assistance to Native Americans by eliminating separate programs of assistance and replaced them with a single block grant program. In addition to simplify the process of providing housing assistance, NAHASDA provided this assistance to Indian Tribes in a manner that recognized the right of Indian self-determination and Tribal self-governance. The Akwesasne Housing Authority, on behalf of the St. Regis Mohawk Tribe, was now given the opportunity to design its own programs that would best serve the needs of its community.
The goals of the Akwesasne Housing Authority are to meet the demand for safe and sanitary housing by increasing homeownership and rental opportunities, and to develop initiatives that will address specialized housing and community needs.
Future planning for the St. Regis Mohawk community shall include increasing homeownership opportunities through Loan Guarantee Programs, the development of a comprehensive home improvement program, and a long-term house rental and or homeownership project through Title VI, Section 184 and other federal programs.
Location of the St. Regis Mohawk Tribe:
Located on the St. Regis Mohawk Tribe portion of the Akwesasne Territory.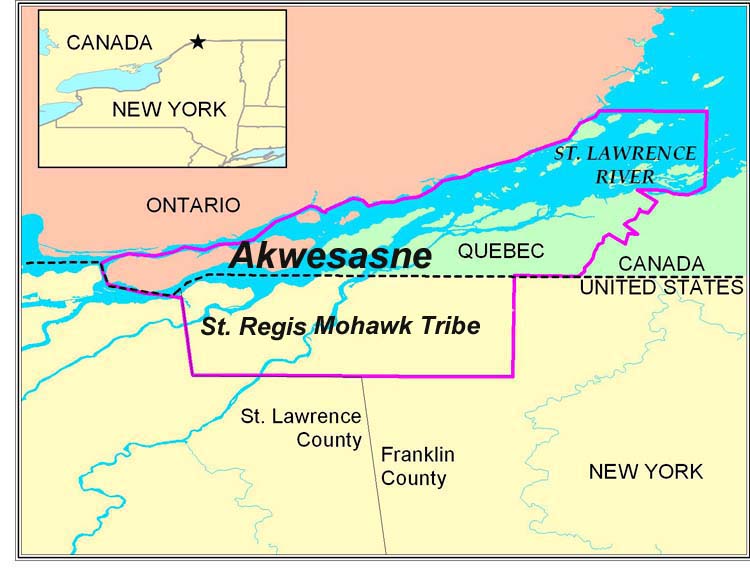 Map courtesy of the St. Regis Mohawk Tribe Environment Division